Visual Basic HMI Industrial Control Toolkit
OPC PLC Communications -

ActiveX PLC Communications

Full Working download DEMO

Product List and Pricing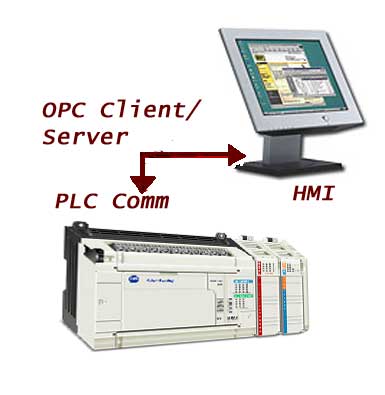 OPC servers for PLC and I/O Communications with VB Client
The Visual Basic solution for PC to PLC communications.

Our OPC servers do all the communications between a PC and the PLC. OPC clients tag named objects receive event driven updates from the server.
Either use the register variable data in your code from our included general client control or use our numerous other client controls(push buttons,gauges, etc.) to develop your application. Links from the client to the servers are made using drop down lists that are filled with tagnames from the OPC server.

(We also offer ActiveX comm drivers which do not have scanning nor do they use tagnames).
OPC PLC servers for:
ModBus master / slave / Ethernet / MB+ / serial
Allen Bradley (AB) DF1 serial / Ethernet for SLC 5/03,4, MicroLogix, PLC5, ControlLogix
AutomationDirect, PLC direct k-seq or ECOM Ethernet
Siemens , Omron , Mitsubishi, GE Fanuc, Honeywell, Toshiba, Idec,
Yaskawa, Yokogawa, Wago, Parlow, Wago, Simatic, Telemecanique, SquareD
over 70 servers to choice from
email for price for each communications server with our General Visual Basic client control(installs into your VB toolbox). See product list and pricing page( * prices are subject to change without notice)
We also have ActiveX I/O PLC drivers
see page PLC ActiveX Communications OCX's-

All servers are 32 bit and will work with Win98 or WinNT, Win 2000/XP.


No hardware keys required!!
24/7 Support!
product list and pricing page( * prices are subject to change without notice)